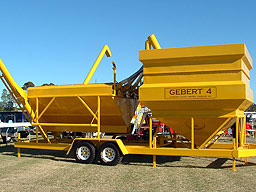 Harvest Clean's Gebert® 4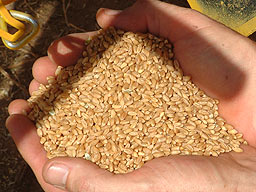 Maximum return on grains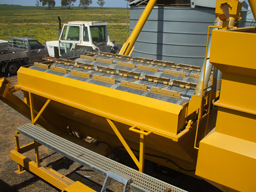 Four big rotor chambers with 22 square metres of
surface area with quick release interchangable screens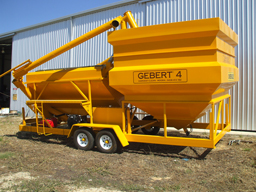 The Gebert

®

4's big 13+ tonne field bin
HARVEST CLEAN are pioneers in the design and manufacture of mobile agricultural grain cleaning grain screening and scalping machinery. HARVEST CLEAN's flagship product, GEBERT® 4 is an efficient grain cleaning / screening and scalping unit designed for solutions to frost affected crops, small and oversized grains and other impurities within harvested crops.
The GEBERT® 4 will maximize returns on grains and will ensure high returns for grains such as barley and canola.
HARVEST CLEAN designed Gebert® 4 with a revolutionary "scalping" system that allows the separation of small grains and then oversized grains and other particulars in a on pass operation.
The GEBERT® 4's one pass operation can accommodate many types of grain by the use of simple and easy to change perforated screens.
GEBERT® 4 features :
Large screening capacity – in excess of 22 square metres
Large field bin in excess 15.5 tonnes
Hydraulic drive system
Four large rotors that can screen only or be configured to screen and scalp
One motor will drive all operations via the hydraulic system
Feed-out augers will deliver to over 4.5 metres
Strong frame that allows the GEBERT 4 to be easy to tow
Rotors accommodate three easy to change screens
Harvest Clean also manufacture and supply screens to suit any cleaning machine for wheat, barley, canola, lupins, field peas plus all other specialty grains. With expert advice on slot and round hole size of screens to maximise the profits earned on each crop.